Dangerous Playthings
Dangerous Playthings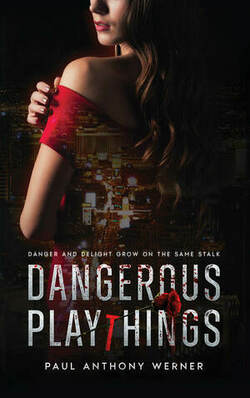 A seductive but dangerous woman and a sadistic serial killer combine to turn the life of a small town cop completely upside down.
Carlo Jardina has built a nice quiet life for himself as a detective with the Prescott AZ police department. But it all changes when a snitch he's befriended tells him an intriguing story, and on a weekend trip to Las Vegas he meets one Jezebel Waterhouse. She's a very desirable woman, Jezebel, and Carlo falls hard for her. She promises he can win her heart forever with one small favor…killing Mr. Waterhouse.
His life gets still more complicated when a stranger picks his town for the first of a string of sadistic sex killings. Stephen, as he calls himself, moves on from Arizona but continues to taunt Carlo with letters containing arcane clues together with items of physical evidence as he continues his murderous spree.
As the summer drags on the questions for Carlo stack up as fast as the bodies of gruesomely slain young women. How can he help stop Stephen when even the FBI is completely frustrated? And what about Jezebel? Can he really bring himself to follow through with the murder he's agreed to commit for her, or is he just stringing her along?
In the shocking conclusion it's revealed that Jezebel and Stephen aren't the only ones with secrets and hidden agendas. Carlo has plenty of his own. In the end he sees a way to settle all his scores and put Stephen out of business with one horrific act. The dilemmas that have bedeviled him are resolved, except for one: can he live with the choices he's made?